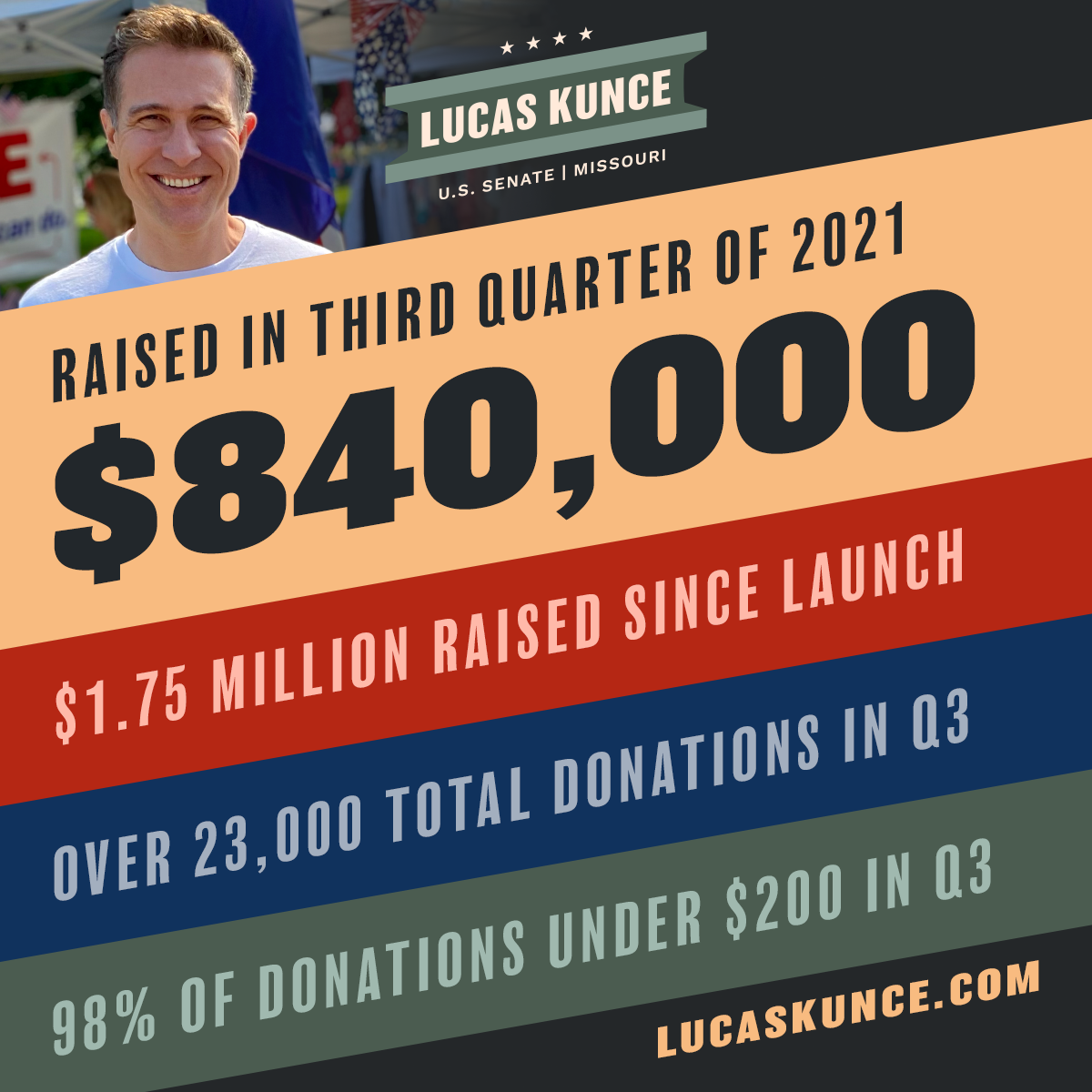 Team Kunce: Marine Veteran Lucas Kunce Breaks Records, Raises $840,000 in Q3 for U.S. Senate Campaign
Back to News
Kunce Continues to Gain Momentum Across Missouri, Leading the Nation in Small Dollar Donors— And Still $0 From Corporate PACs
Independence, MO – Marine veteran and antitrust advocate Lucas Kunce's U.S. Senate campaign announced raising $840,000 for the third quarter. Kunce received over 23,000 donations between July 1 and September 30, with 98% of donations under $200.
Notably, that haul places Kunce ahead of the democratic nominee – Jason Kander – during the 2016 cycle, when this seat was last up. The key difference is that Kunce is doing over 98% of it with small-dollar donations, shattering expectations and bulldozing a viable path straight to the United States Senate. Major political outlets have taken note, naming Missouri one of the most flippable Senate races this cycle.
"The support our campaign has received has been overwhelming," said Kunce. "I'm humbled by the trust so many have invested in me and in our campaign. For too long, massive corporations and the politicians they pay for have been stripping our community for parts. It's time we take the fight to them and fundamentally change who has power in this country. The people who should be in power are you – everyday working Missourians. That's my mission, and that's what we're going to do with this race. Without a single dime from corporate PACs, we're going to win this fight."
In the past few months, Lucas made waves with a viralop-ed on Afghanistan in the Kansas City Star, multiple cable news and media appearances and earned the endorsement of Vote Vets, the largest organization dedicated to electing veterans to the United States Senate. His populist message and unapologetic critique of political elites in Washington who are backed by corporate lobbyists continues to break through and resonate with voters across the state. Said one writer for The American Conservative, "Kunce is no establishment Democrat. He's not running this race on autopilot." Even Missouri's GOP operatives are taking note. Jean Evans, former executive director of the Missouri Republican Party, had this to say – "If it's Eric Greitens against Kunce, then you're looking at a potential win for the Democrats." Greitens is the current GOP frontrunner.
Kunce's compelling populist message—in combination with an aggressive approach to acquisition, online organizing and digital advertising—has made it clear there's a new way to run statewide as a competitive Democrat in Missouri. In June, the Kunce campaign invested more into ads on Facebook than the rest of the field combined (for both parties) based on available data.

"Lucas Kunce is the only candidate in this race who's both capable of and committed to ending the broken status quo that's leaving everyday working people behind across Missouri," said Caleb Cavarretta, campaign manager. "His bold and direct message is resonating with everyday Missourians across the entire state. We're making the necessary investments to communicate that message directly to the voters early and often, online and on the ground. Our growing army of grassroots supporters have made it clear: Lucas Kunce is a force to be reckoned with."

Key fundraising numbers for Lucas Kunce for Missouri this quarter (July 1 to September 30) include:
$840,000 raised in Q3, beating out Jason Kander, the Democratic nominee at this point in the last election cycle for this seat;
Over 23,000 individual donations;
98% of donations are under $200;
An average donation of $36;
Over $1.8 million total raised since the campaign officially launched in March;
$0 from corporate PACs
###