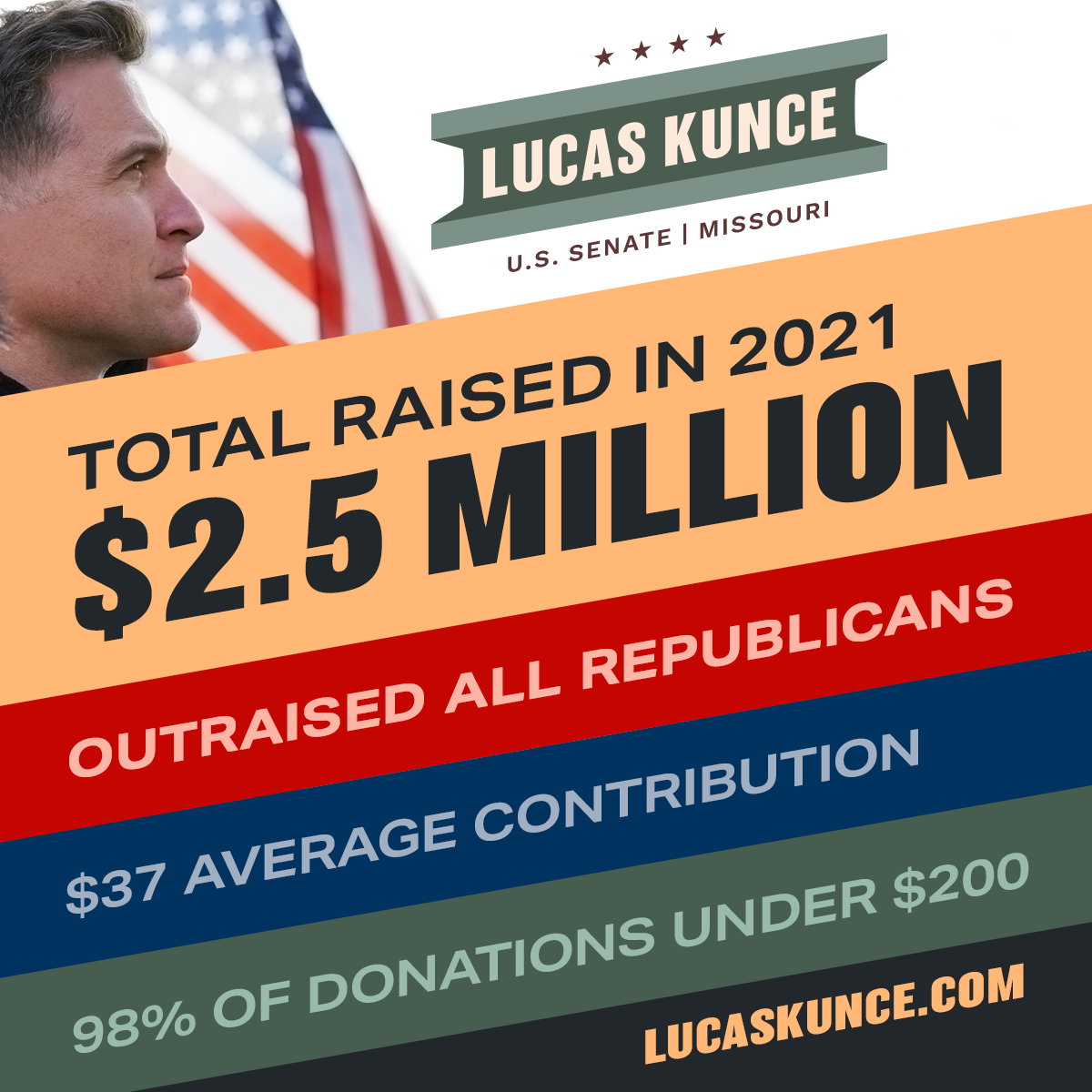 In Missouri, Marine Veteran Lucas Kunce Outraised Every Single Republican. Again.
Back to News
Kunce Continuing to Lead the Entire Country in Grassroots Fundraising Percentages, Running on an Unapologetic Populist Message, Putting Missouri Senate Race on the Map
Independence, MO – Marine veteran, antitrust advocate, and populist Lucas Kunce has outraised the entire U.S. Senate field in Missouri again, raising $710,000 for the fourth quarter of 2021. That's more in contributions than every single GOP candidate, a roster that includes criminals like the former Governor, and the current attorney general, and D.C. political insiders like the two sitting members of Congress.
What's more is that in the year 2021, Kunce outraised the entire Republican field with a total of nearly $2.5 million from over 65,000 donations between his campaign launch and December 31, with 98% of donations under $200. And that haul was raised without taking a single penny from corporate PACs. The average donation to Kunce's campaign is under $38, further cementing him as this cycle's leader in the entire country with respect to grassroots fundraising percentages.
"The support our campaign continues to receive has been overwhelming," said Connor Lounsbury, deputy campaign manager and spokesman. "Across Missouri, people are fed up with massive corporations and the corrupt politicians those monopolies have bought off to strip our communities for parts. Lucas Kunce is going to take the fight to them and fundamentally change who has power in this country. His message from day one has been clear — the people who should have power are the everyday working Missourians."
Given Kunce's impressive grassroots fundraising and bluntly populist message, it's no surprise that more and more people are talking about this groundbreaking campaign.
His populist message and unapologetic critique of political elites in Washington who are backed by corporate lobbyists continue to break through and resonate with voters across the state. Said The National Journal:
"[Kunce's campaign] might be [a] test case for Democrats on if—and how—they can win back some of the ground they've lost in those onetime bellwether states, especially in working-class and rural communities. Democrats who spoke to National Journal agreed that voters are angry and Democrats will need to show that they can fight on their behalf.
In a viral profile of Lucas Kunce that made the cover story, Politico Magazine wrote:
"And no matter if the issue is war in the Middle East, agriculture in the Midwest or pretty much anything else, [Kunce's] appeal to unity is this: Whether you're a Democrat or a Republican, you're all getting screwed."
Even Missouri's GOP operatives are taking note. Jean Evans, former executive director of the Missouri Republican Party, had this to say: "If it's Eric Greitens against Kunce, then you're looking at a potential win for the Democrats." Greitens is the current GOP frontrunner, whom Lucas has now outraised in the cycle-to-date
Key fundraising numbers for Lucas Kunce for Missouri in 2021:
$710,000 raised in Q4, beating out the entire Senate field in MO;
Over 65,000 individual donations in 2021;
98% of donations are under $200;
An average donation of under $38;
Nearly $2.5 million total raised for the campaign after the campaign officially launched in March;
The highest percentage raised from grassroots donations of *ANY* major candidate in the entire country, beating out every Democratic incumbent in the country;
$0 from corporate PACs.