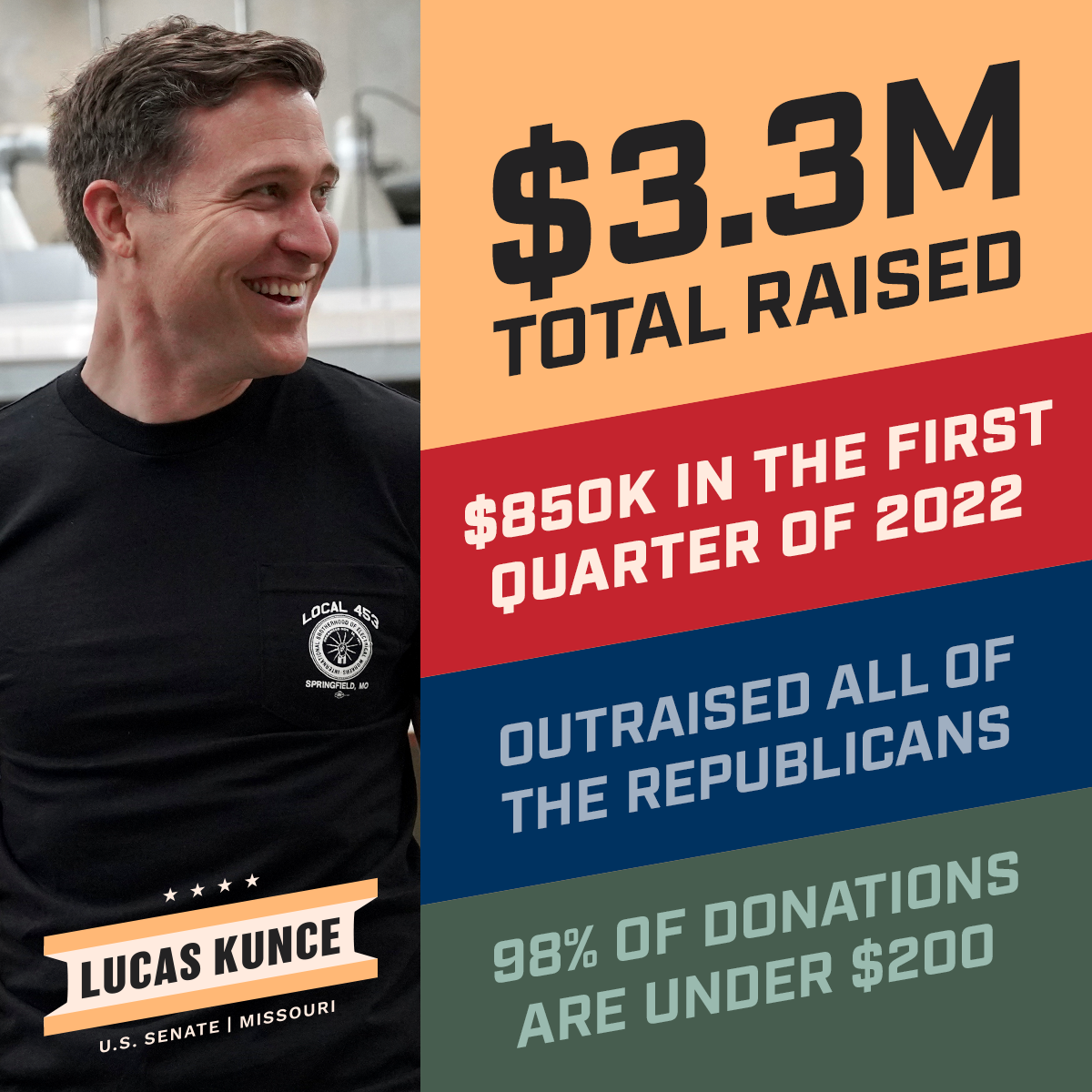 In Missouri, Marine Veteran Lucas Kunce Outraised Every Single Republican. For the Third Quarter in a Row.
Back to News
Independence, MO – Marine veteran, antitrust advocate, and populist Lucas Kunce has outraised the entire U.S. Senate field in Missouri for the third quarter in a row, raising $850,000 for the first quarter of 2022, his best quarter of the cycle. That's more in contributions than every single GOP candidate, a roster that includes criminals and D.C. political elites.

In the first three months of 2022, Kunce outraised everyone in the race with a total of $850,000 from over 24,000 donations, with 98% of donations under $200 and an average donation of $36. And that haul was raised without taking a single penny from corporate PACs. What's more is that Lucas leads the entire country in grassroots fundraising percentages – the highest grassroots support as a share of total fundraising of any major U.S. Senate campaign in the country.

Since launching his groundbreaking campaign, Lucas Kunce has raised over $3.3 million from nearly 90,000 donations, with 98% of donations under $200. He has earned support from every county in Missouri.

"This is what a campaign powered by real people looks like," said Connor Lounsbury, deputy campaign manager and spokesman. "Missourians are tired of criminal politicians and corrupt elites who've stripped our communities for parts. Lucas Kunce has promised that he will be a warrior for working people, and it's that promise that has earned him support from every county in this state. It's about time real Missourians get to call the shots as opposed to the bought-and-paid-for political class and the multinational corporations that own them."

Given Kunce's impressive grassroots fundraising and bluntly populist message, it's no surprise that more and more people are talking about this groundbreaking campaign.

His populist message and unapologetic critique of political elites in Washington who are backed by corporate lobbyists continue to break through and resonate with voters across the state.

Said Hayti Heights Mayor Catrina Robinson:
"For her part, Mayor Robinson says she is not a political person. Kunce's focus on restricting the power of elites is rousing. 'He don't care whose toes he step on,' she says. She especially likes his proposal to ban congressional stock ownership. 'The people who own all this money in stocks—they started getting richer, while the poor are getting poorer. I agree with that. Stop making them get rich. They pick and choose when their stock can go up and down—it's not fair. I agree wholeheartedly.'"

Said St. Louis Representative Rasheen Aldridge Jr., who served on the Ferguson Commission:

"There's only one person in the race that can win, and that's Lucas Kunce. I'm looking for someone who's going to fight for everyday Missourians, all of us. That's Lucas. I'm backing him with everything I got because we deserve a Senator who puts working people first."

In a viral profile of Lucas Kunce that made the cover story, Politico Magazine wrote:
"And no matter if the issue is war in the Middle East, agriculture in the Midwest or pretty much anything else, [Kunce's] appeal to unity is this: Whether you're a Democrat or a Republican, you're all getting screwed."
In the first three months of 2022, Lucas Kunce has also earned support from leaders across the state, including from Councilwoman Katheryn Shields (Kansas City), Representative Michael Johnson (Kansas City), Mayor Reggie Jones (City of Dellwood), entrepreneur Charlie Lowe (Kansas City), Councilman Terry Wilson (City of Jennings), former Mayor Jim O'Neal (Springfield), former Presiding Commissioner Dave Coonrod (Greene County), Representative Rasheen Aldridge Jr. (St. Louis), Councilwoman Shalonda Webb (St. Louis), Mayor Tommie Pierson Sr. (Bellefontaine Neighbors), and Alderwoman Shameem Clark Hubbard (St. Louis).

He's also earned endorsements from VoteVets, League of Conservation Voters, Progressive Change Campaign Committee, No Dem Left Behind, Taking the Hill, and We Have the People.
Key fundraising numbers for Lucas Kunce for Missouri in Q1 of 2022:
$850,000 raised, beating out the entire Senate field in MO;
Over 23,000 individual donations;
98% of donations are under $200;
An average donation of $36;
The highest percentage raised from grassroots donations of *ANY* major candidate in the entire country, beating out every Democratic incumbent in the country;
Over $3.3 million total raised for the campaign since the campaign officially launched in March;
$0 from corporate PACs.