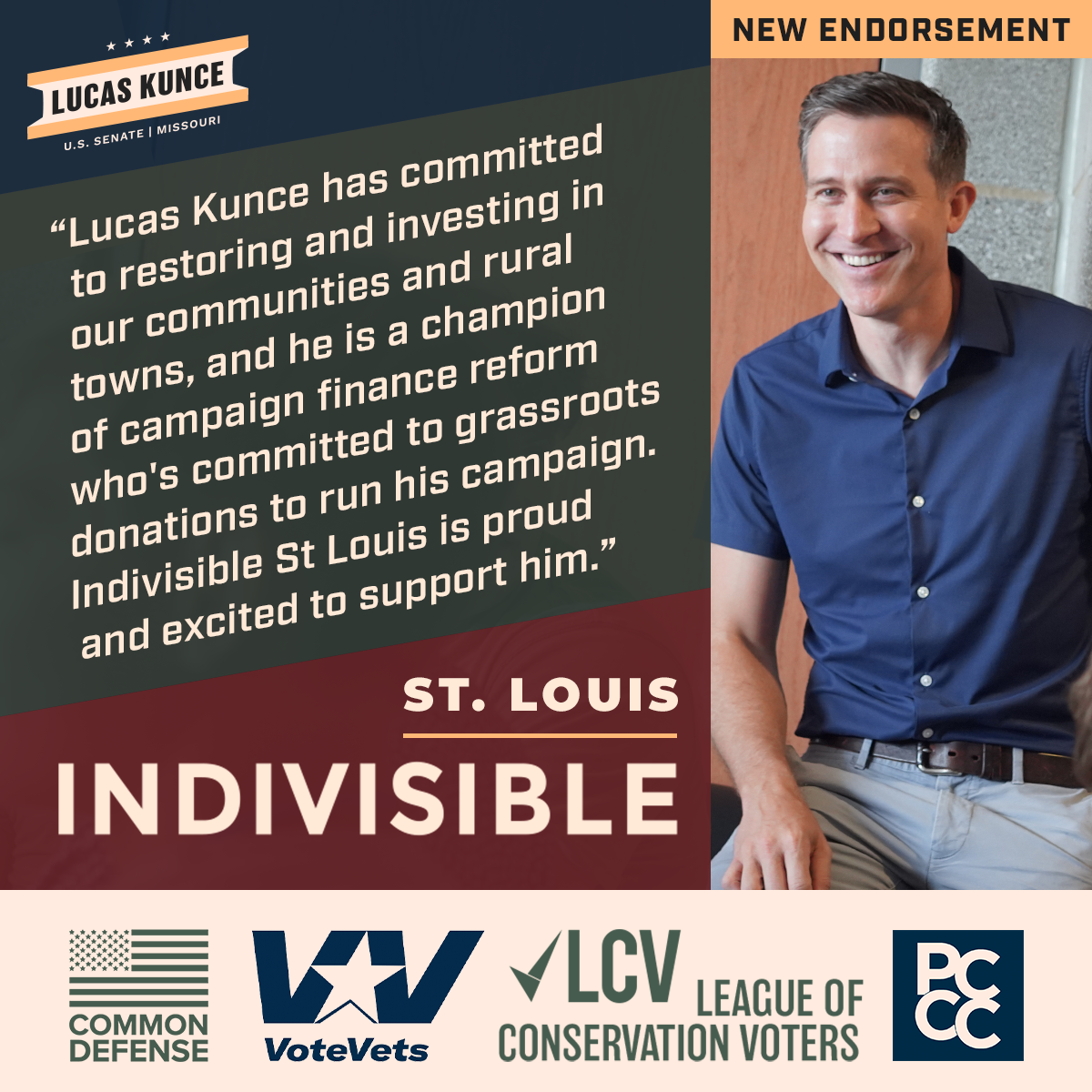 Indivisible St. Louis Endorses Lucas Kunce
Back to News
St. Louis, MO – Indivisible St. Louis has endorsed Lucas Kunce in the race for U.S. Senate.
Indivisible St. Louis issued the following statement: "Indivisible St Louis is proud and excited to support Lucas Kunce for U. S. Senate. He has committed to restoring and investing in our communities and rural towns, and he is a champion of campaign finance reform who's committed to grassroots donations to run his campaign. Lucas is determined to change who is in Washington, D.C., and he'll make sure that they are working for ALL OF US!"
Lucas Kunce has earned the support of leaders from across the state, including Councilwoman Katheryn Shields (Kansas City), Representative Michael Johnson (Kansas City), Mayor Reggie Jones (City of Dellwood), Councilman Terry Wilson (City of Jennings), former Mayor Jim O'Neal (Springfield), former Presiding Commissioner Dave Coonrod (Greene County) Representative Rasheen Aldridge Jr. (St. Louis), Councilwoman Shalonda Webb (St. Louis), Mayor Tommie Pierson Sr. (Bellefontaine Neighbors), Alderwoman Shameem Clark Hubbard (St. Louis), and more.
Lucas has also earned endorsements from VoteVets, League of Conservation Voters, Common Defense, Progressive Change Campaign Committee, No Dem Left Behind, Taking the Hill, We Have the People, Democrats Serve, and United Rural Democrats.