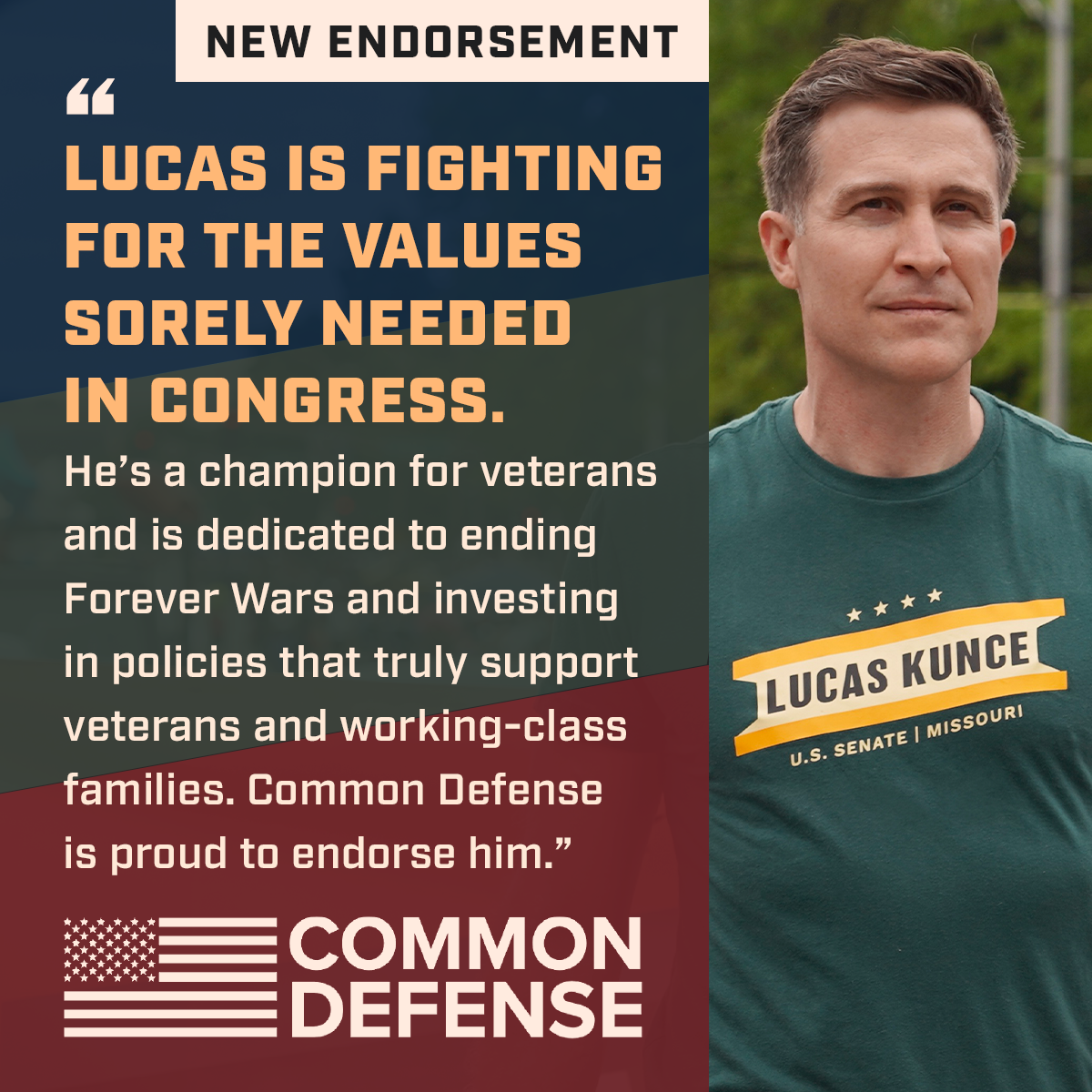 Common Defense Endorses Lucas Kunce for Senate in Missouri
Back to News
A grassroots organization of veterans, Common Defense adds Kunce to their slate of high-profile statewide endorsements nationwide, including John Fetterman and Stacey Abrams
Independence, MO – Today, Common Defense, a grassroots organization of progressive veterans with more than 250,000 members, is proud to announce their endorsement of Lucas Kunce for the 2022 midterm Senate race in Missouri.
Common Defense-endorsed candidates are individuals who we believe best capture the grassroots energy of our political moment to champion a policy agenda rooted in economic, social, and global justice. Candidates endorsed by Common Defense are deeply committed to and engaged in grassroots organizing.
"Lucas is fighting for the values that are sorely needed in Congress," said Naveed Shah, Political Director at Common Defense. "He is a champion for veterans and is dedicated to ending Forever Wars and investing in policies that truly support veterans and working-class families. Common Defense is proud to endorse him."
"If people want to honor this country's veterans, they can start by investing in the communities we signed up to serve," said Lucas Kunce, USMC Veteran and Democrat running for Senate in Missouri. "For years, our politicians have wasted trillions of dollars on forever wars, building up other countries instead of investing right here at home. I remember coming back home to Missouri between deployments to Iraq and Afghanistan and seeing my community worse off every time. It's criminal to me that when it comes to building up America, our politicians find any and every excuse to not. Veterans risked our lives for this country's national security yet Washington's political elite can't find it in their hearts to invest in our nation's economic security. That's why I'm proud to have earned the support of Common Defense. As the country's largest veteran-led grassroots organization, Common Defense is committed to standing with servant leaders who want nothing more than to protect this great country we all signed up to serve. I'm grateful to have them in this fight with me."
About Lucas:
Lucas Tyree Kunce spent 13 years as a Marine officer, did tours in Iraq and Afghanistan, defended fellow servicemen from predatory finance, represented the United States in arms control negotiations in Europe, and worked to make our world a safer place with fewer weapons and wars. Since then, he's been fighting the massive corporations and corrupt politicians who strip our communities for parts. And now, he's running for Missouri's open U.S. Senate seat to help lead that fight on behalf of everyday people in Missouri.
About Common Defense:
Common Defense is distinct from other veteran political organizations in that we endorse and support candidates who reflect the progressive values of our 250,000 members, regardless of whether the candidate served in the military themselves. Our work in 2022 focuses on organizing and training veterans and military families in these districts in order to give them the chance to speak out and challenge the status quo, and to change the false narrative that all veterans are conservatives. The military community is not a political prop to be exploited, and we will not endorse an agenda of greed and hate.
Lucas Kunce has already earned the support of leaders from across the state, including Councilwoman Katheryn Shields (Kansas City), Representative Michael Johnson (Kansas City), Mayor Reggie Jones (City of Dellwood), Councilman Terry Wilson (City of Jennings), former Mayor Jim O'Neal (Springfield), former Presiding Commissioner Dave Coonrod (Greene County) Representative Rasheen Aldridge Jr. (St. Louis), Councilwoman Shalonda Webb (St. Louis), Mayor Tommie Pierson Sr. (Bellefontaine Neighbors), Alderwoman Shameem Clark Hubbard (St. Louis), and more.
Lucas has also earned endorsements from VoteVets, League of Conservation Voters, Common Defense, Progressive Change Campaign Committee, No Dem Left Behind, Taking the Hill, We Have the People, Democrats Serve, and United Rural Democrats.