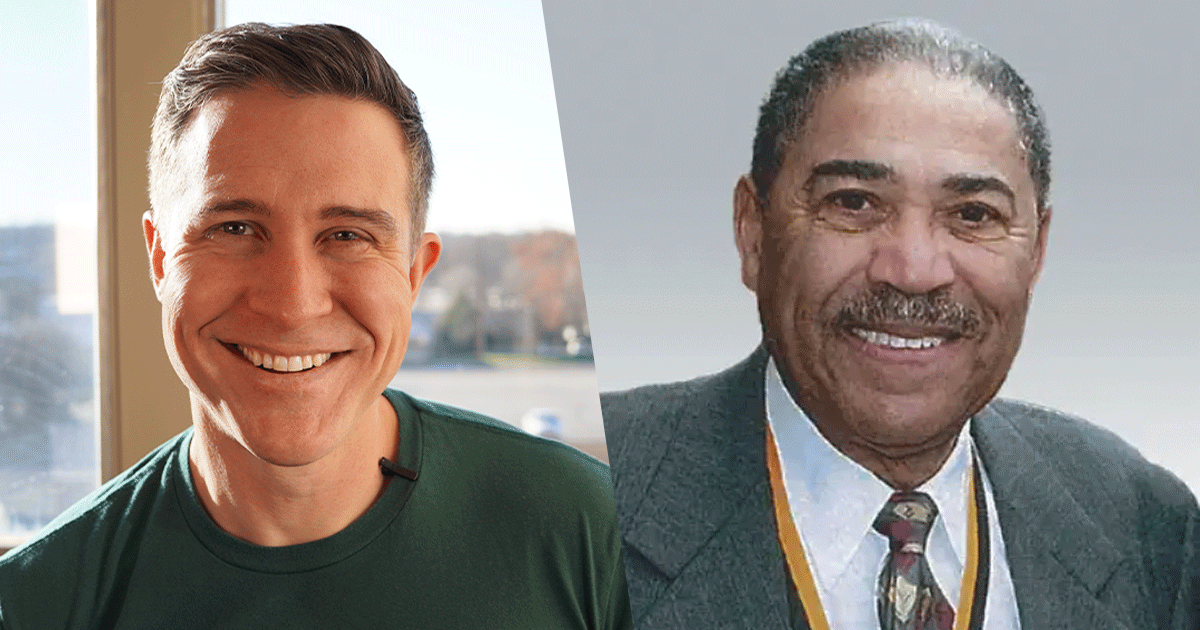 Former Congressman Bill Clay Sr. Endorses Lucas Kunce for U.S. Senate 
Back to News
Independence, MO – Today, Bill Clay Sr., a St. Louis Civil Rights icon and Missouri's first Black member of Congress, endorsed 13-year Marine Veteran Lucas Kunce for U.S. Senate, highlighting Lucas' experience and being the only Democrat in the race willing to fight for our values. For Clay, Lucas is "the one we can trust."
"I served St. Louis for over 30 years as Missouri's first Black Congressman, fighting for our people and universal health care, standing with workers, and always advocating for justice. I know what it takes to serve our community. I know Lucas Kunce will be the fighter we need in the U.S. Senate. We've never had a Senate candidate who knows our struggles so well and cares for everyday people like Lucas Kunce does," said former Congressman Bill Clay Sr. "He didn't grow up with a silver spoon in his mouth — he grew up in a family that was bankrupted by medical bills. They relied on the generosity of neighbors. Lucas got a scholarship to college and served his country for 13 years as a US Marine. Unlike other candidates in this race, the only 'ball' he's ever been to is the Marine Corps Ball. He's the one we can trust. I've got his back because I know he has all of ours. Vote for Lucas Kunce on August 2nd because we need real Democrats in the U.S. Senate who will fight for us and respond to the voters instead of big money special interests."
This endorsement is the latest in a string of national, statewide, and local endorsements for Lucas Kunce.
Lucas Kunce has already earned the support of leaders from across the state, including Mayor Ella Jones (Ferguson), Councilwoman Katheryn Shields (Kansas City), Representative Michael Johnson (Kansas City), Mayor Reggie Jones (City of Dellwood), Councilwoman Rita Heard Days (St. Louis County), Councilman Terry Wilson (City of Jennings), former Mayor Jim O'Neal (Springfield), former Presiding Commissioner Dave Coonrod (Greene County) Representative Rasheen Aldridge Jr. (St. Louis), Bishop Timothy Smith, Sr. (New Life Community Church of God in Christ), Gwen Reed (Spanish Lake Committeewoman), Councilwoman Shalonda Webb (St. Louis), Mayor Tommie Pierson Sr. (Bellefontaine Neighbors), Alderwoman Shameem Clark Hubbard (St. Louis), John Sharp (President of Southland Progress), Former State Senator Wes Shoemyer (northeast MO), former Mayor Bill McMurray (St. Joseph), Mayor Catrina Robinson (Hayti Heights), and more.
Local and statewide organizations backing Lucas Kunce include Pro-Choice Missouri, Fannie Lou Hamer Coalition (St. Louis), Southland Progress (Kansas City), Indivisible St. Louis, Lewis & Clark Township Democrats, Northwest Township Democrats, Norwood Township Democrats, Raytown Democrats, Spanish Lake Democrats, 4th Ward Democrats (St. Louis), Ferguson Township Democrats.
Lucas has also earned endorsements from national grassroots organizations like VoteVets, League of Conservation Voters, Common Defense, Progressive Change Campaign Committee, Progressive Turnout Project, No Dem Left Behind, Taking the Hill, We Have the People, Democrats Serve, MoveOn.org, and United Rural Democrats.