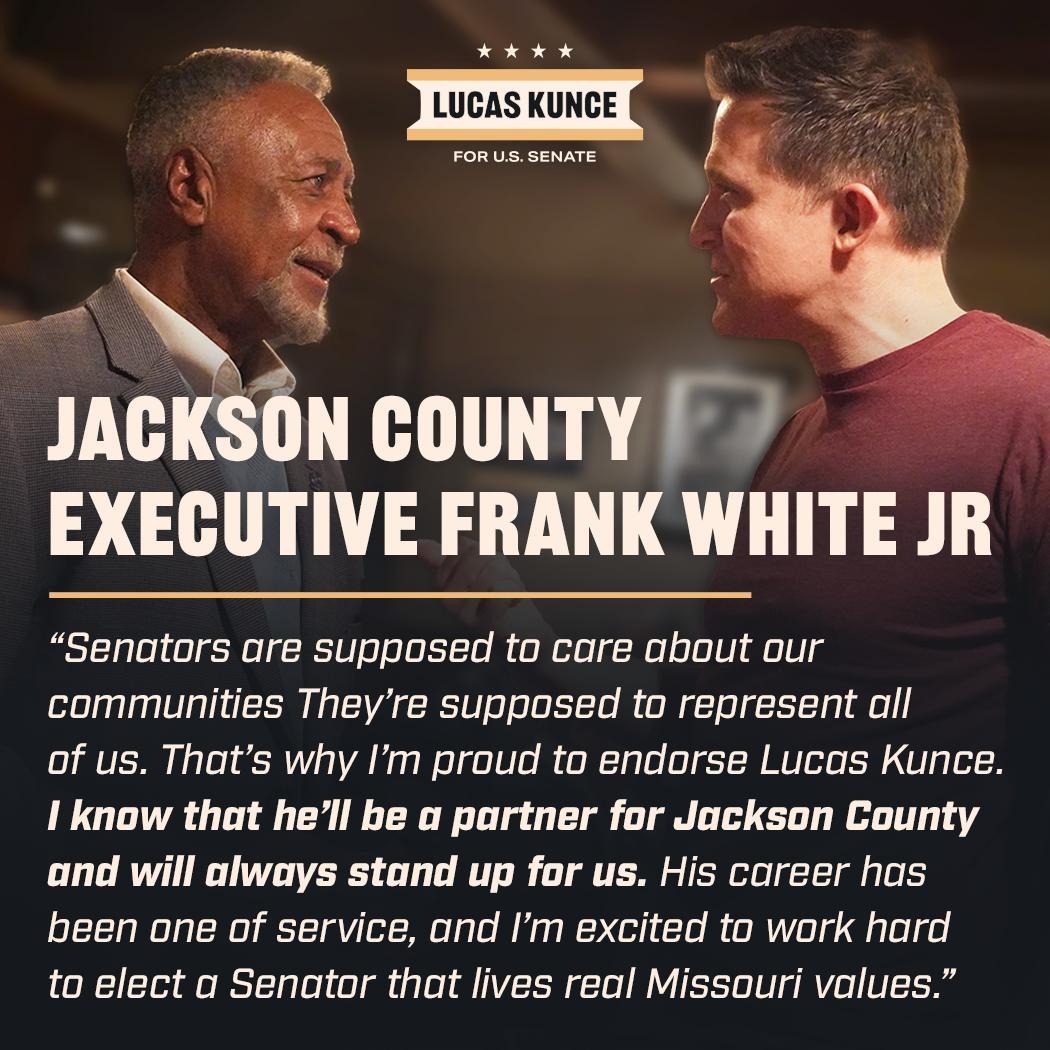 Jackson County Executive, KC Royals Icon Frank White Jr. Endorses Lucas Kunce
Back to News
Frank White Jr.: "Lucas' career has been one of service, and I'm excited to work hard to elect a Senator that lives real Missouri values."
Independence, MO – Today, Jackson County Executive and KC Royals Icon Frank White Jr. is endorsing Lucas Kunce for U.S. Senate.
"Senators are supposed to care about our communities. They're supposed to represent all of us. That's why I'm proud to endorse Lucas Kunce," said Jackson County Executive Frank White Jr. "I know that he'll be a partner for Jackson County and will always stand up for us. His career has been one of service, and I'm excited to work hard to elect a Senator that lives real Missouri values." 
About Frank White Jr.:
Frank was elected County Executive on November 8, 2016, after having served as appointed County Executive starting January 11, 2016. During his time in office, Frank has worked tirelessly to improve the lives of Jackson County citizens. Major accomplishments include his support of the Children's Services Fund, the establishment of the Prescription Drug Monitoring Program and the passage of the Tobacco 21 ordinance. Frank is also proud to have led efforts to renew the county's COMBAT anti-violence/anti-drug abuse program, to bring kids to county parks, gain approval of the vehicle sales tax, institute "Ban the Box" and the acquisition of the Rock Island Rail Corridor.
Before serving as County Executive, Frank was elected as 1st District At-Large Jackson Count Legislator on November 4, 2014.
The grandson of sharecroppers, Frank was born in Greenville, Mississippi in 1950, but grew up in Kansas City. Old Municipal Stadium cast a shadow over his family home, and he attended Lincoln High School, right next door to the old ballpark.
One of Frank's first jobs was as a union laborer, scraping mortar and sealing floors on a project that would become one of Jackson County's crown jewels—a new baseball field that's now famous for its crowned scoreboard, Royals (now Kauffman) Stadium. That gives Frank the distinction of possibly being the only Major Leaguer to play in a stadium that he literally helped build.
Frank molded his raw skills as a player at Ewing Kauffman's innovative Baseball Academy and went on to have an iconic career with the Kansas City Royals, earning eight Gold Gloves and five All-Star appearances during his 18 seasons with the team. In the Royals' 1985 World Series triumph over the St. Louis Cardinals, he batted clean-up, becoming one of only two second basemen to do so throughout an entire Fall Classic—the other being Jackie Robinson.
One of the most popular players ever to sport KC blue, Frank was inducted into the Royals Hall of Fame in 1995 and his No. 20 has been retired. A bronze statue of Frank stands at Kauffman Stadium, just beyond the right field bleachers.