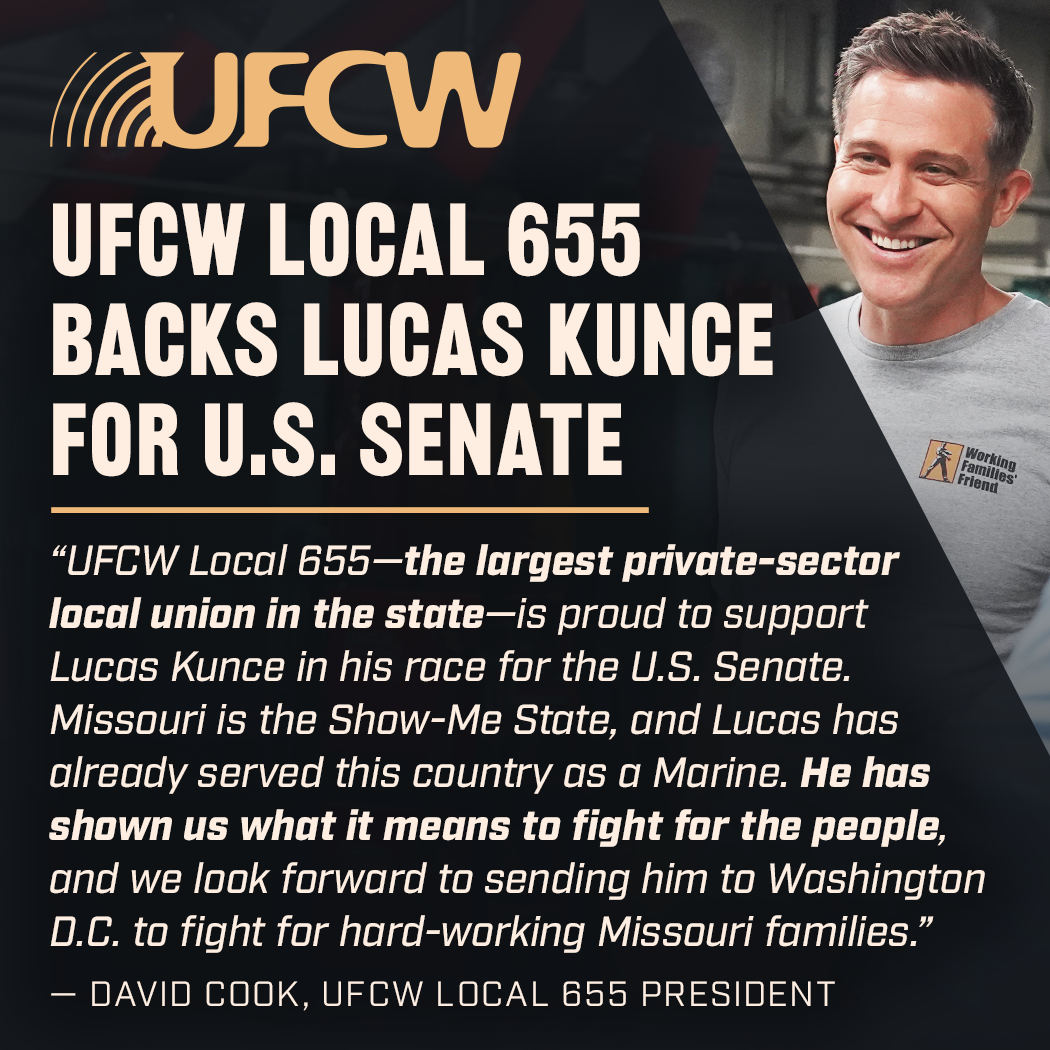 Kunce Earns Another Major Labor Endorsement: UFCW Local 655 Backs Lucas Kunce for Senate
Back to News
The largest private-sector local union in Missouri has endorsed Lucas Kunce.
St. Louis, MO – Today, United Food and Commercial Workers (UFCW) Local 655 has endorsed Lucas Kunce for Senate. UFCW 655 is the largest private-sector local union in the state, representing more than 10,000 workers in retail food and non-food, manufacturing, packing houses, distribution centers, laboratories, and hair care.
"Working people in Missouri deserve a U.S. Senator who sides with them, not with rich donors and extremists," said David Cook, President of UFCW 655. "UFCW Local 655 — the largest private-sector local union in the state — is proud to support Lucas Kunce in his race for the United States Senate. Missouri is the Show-Me State, and Lucas has already served this country as a Marine. He has shown us what it means to fight for the people, and we look forward to sending him to Washington D.C. to fight for hard-working Missouri families."
Labor endorsing Kunce includes UFCW #655, Roofers #20, Iron Workers #10, Insulators #1, Sprinkler Fitters #268, Bricklayers #1, Tilesetters #18, Insulators #63, Roofers #2, and the Greater Kansas City Building & Construction Trades Council, which represents Boilermakers #83, Bricklayers #15, Cement Masons/Plasterers #518, Elevator Constructors #12, Heat & Frost Insulators #27, Insulation Prod Workers #1, IBEW #124, Ironworkers #10, Operating Engineers #101, Laborers #264, Laborers #663, Laborers #1290, Painter's District Council #3, Pipe Fitters #533, Plumbers #8, Road Sprinkler Fitters #669, Roofers #20, Sheet Metal Workers #2, Sprinklerfitters #314, Teamsters #41, and Teamsters #541.