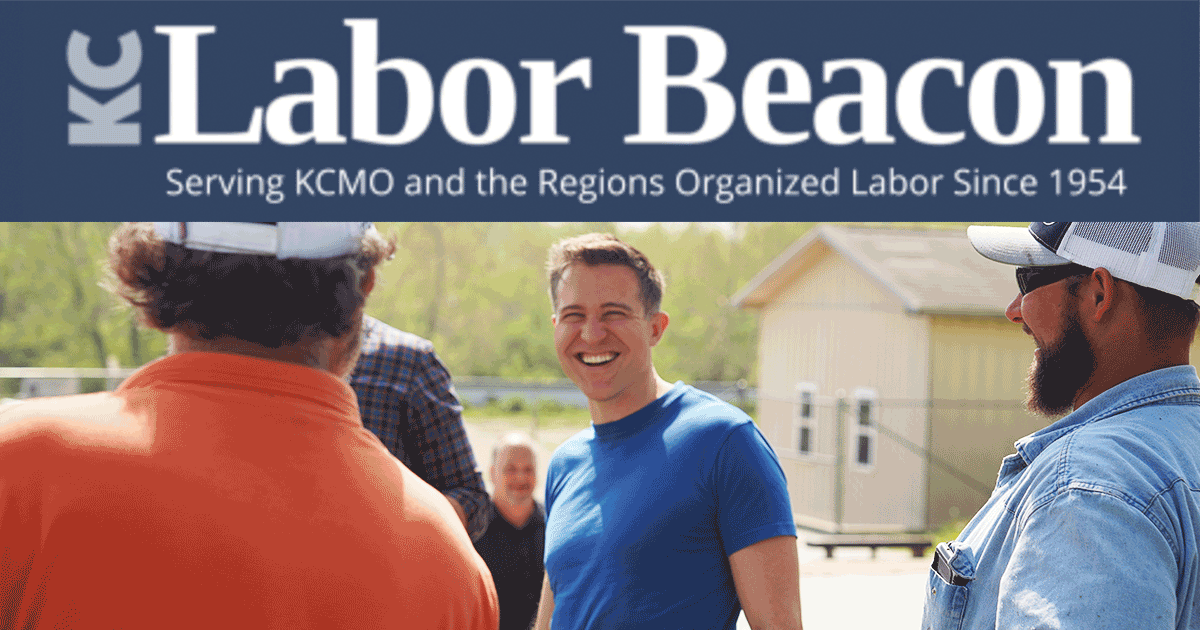 KC Labor Beacon: Lucas Kunce Adds Early Union Endorsements in 2024 Senate Race
Back to News
NOTE: The content below contains excerpts from a story on the Greater Kansas City Building Trades endorsement of Lucas Kunce featured in the May 5, 2023 print edition of the KC Labor Beacon. Read the full story here.
---
KC Labor Beacon: 2024 Missouri Senate Candidate Lucas Kunce Adds Early Union Endorsements
KC Labor Beacon | 5/5/2023
…
The 2022 Missouri Senate race left many union leaders in Kansas City talking about moving quicker to define what the next statewide race would look like.
Many union members had been drawn to the issues that Kunce had focused on … issues that made him stand out from a more typical Democrat.
When the opportunity rolled around again, union leaders in the Building Trades quickly moved to back up [Kunce].
Kunce, who says he is running to "fundamentally change who has the power in this country," doesn't hold back…
…
Josh Hawley, the incumbent that Democrats seek to defeat, has made a lot of big headlines since winning in 2018. Unfortunately for Missourians, many of them have been, well, not great. Footage of Hawley, both of him running through the halls and him earlier raising first towards that same January 6th mob, has repeatedly embarrassed Missourians. A local paper called him a "laughingstock."
In response to accusations of cowardice, he wrote a book called "Manhood."
…
"The Greater Kansas City Building and Construction Trades Council is proud to be among the first to endorse Lucas Kunce. Our time with Kunce has left us consistently impressed and with the distinct impression that he understands the seriousness of the issues facing not only our members, but our nation, in a way that is unique and born out of the lived experience of someone from a true working-class background," said Business Manager Ralph Oropeza. "Like so many of our members, Kunce is a veteran who knows what it means to selflessly serve our nation. We look forward to working to get him into a position to serve again — this time as U.S. Senator from Missouri."
"We're proud to join the coalition of workers backing Lucas Kunce 13-year Marine veteran and born-and- raised Missourian who knows us. knows his stuff, and knows how to fight for us," said Dave Coleman, Business Manager for Iron Workers Local 10 and president of the Greater Kansas City Building & Construction Trades Council. "Workers and middle-class families in Missouri deserve a U.S. Senator who means it when he says he'll fight for us. From deploying to Iraq and Afghanistan, to negotiating arms control treaties and taking on the defense monopolies that threaten our security, Lucas Kunce has never forgotten the working-class community that he signed up to honor and serve."
"Josh Hawley wants to destroy the union way of life," said Steve Gercone. Business Manager, Roofers Local 20 "Workers in Missouri deserve a U.S Senator who knows us. talks to us. and will always fight for us. That's why we're proud to endorse Lucas Kunce, a 13-year Marine veteran whose commitment to workers isn't just a talking point."
…
Read the whole story here from the KC Labor Beacon >>