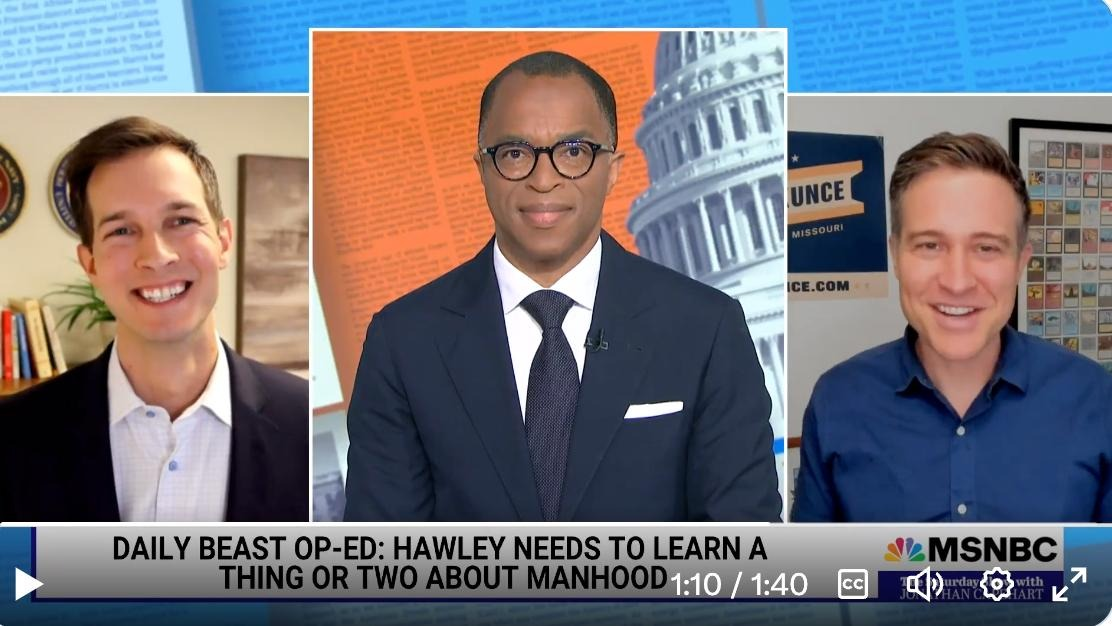 Congressman Auchincloss On MSNBC: Democrats Can Win In Missouri. GOP Has A Bad Candidate in Senator Hawley. Democrats Have A Good Candidate In Lucas Kunce.
Back to News
Independence, MO – This morning, Congressman Jake Auchincloss and Lucas Kunce joined Jonathan Capehart on MSNBC to respond to Hawley's poorly-reviewed book on manhood.
Highlights
Congressman Auchincloss on why he wrote an op-ed with Lucas Kunce: "I'm an admirer of Lucas. Marines hang together…Democrats can win in Missouri…Right now, the GOP has a bad candidate in Senator Hawley. He's underwater in his favorables. Democrats have a good candidate in Lucas. And we need to be organizing and investing in that state to hold people like Senator Hawley to account for being inauthentic and for putting the needs of their own constituents last behind their own ambitions."
Lucas Kunce on Senator Hawley's take on manhood: "His whole idea of leadership, which is the opposite of what Jake and I learned in the Marine Corps, is to tell people what to do…[Josh Hawley] wants to control them in the workplace and the doctor's office…What we need to do is actually invest in people again…For me and most Missourians, we don't want to be controlled, we just want to have the opportunity to live our lives."
Congressman Auchincloss on how being a Marine has shaped the response to Josh Hawley: "Marines learn in basic officer training about leadership by example, which is what we did not see from Senator Hawley on January 6th. And we learned that officers eat last, that you put others before yourself, whether it's your family, your community, the troops in your platoon. And again, Senator Hawley has not been doing that as a representative of Missouri. As the Attorney General of Missouri where he worked really hard to cut wages and benefits to take health care away from Missourians. [In the Senate], he voted against infrastructure and CHIPS and Science Act — two bills that directly invest in building the kind of economy that men can thrive in."
Lucas Kunce on Hawley's lack of expertise and friendship with Congressman Auchincloss: "If I wrote a book on medical devices, no one would want to read it because I'm not an expert on this thing. And Josh Hawley has got no real experience in this field. So we really need to get out there and put the contrast against it. Hawley says the Republican Party is the party of working people, and it's not. We have to stand strong. And I was really glad Jake actually approached me about this project…It's an opportunity for us out here on the frontlines of democracy in Missouri to actually put a stake in the ground and say, 'No, we are the people who are going to invest in working folks.'"
Watch the full clip on MSNBC here and read their op-ed in The Daily Beast here.