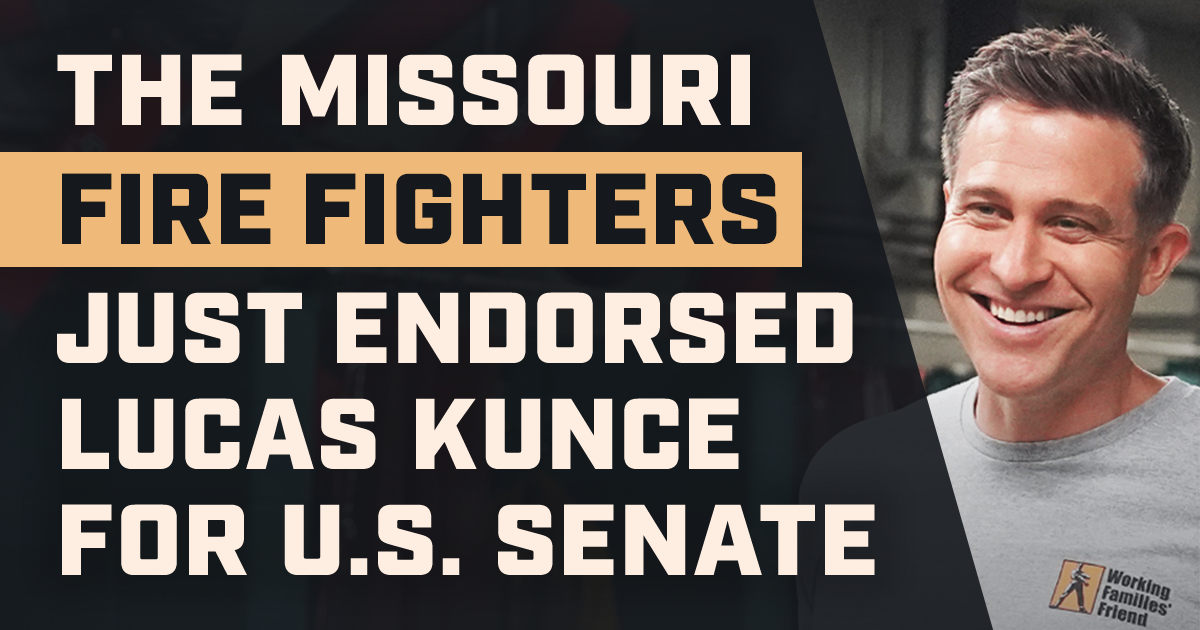 Missouri Fire Fighters Endorse Lucas Kunce For U.S. Senate
Back to News

The Fire Fighters, who backed Republican U.S. Senator Eric Schmitt last cycle, are now Kunce's first statewide union endorsement.
Kansas City, MO – Today, the Missouri State Council of Fire Fighters is endorsing Lucas Kunce for U.S. Senate. The MSCFF represents more than 7,000 firefighters, EMTs, dispatchers, and paramedics across Missouri.
This marks the first statewide union endorsement for Kunce and speaks to his unique ability to earn the votes of independents and split-ticket voters. In the past, the Missouri State Council of Fire Fighters has endorsed Senators Schmitt and Blunt. This cycle, they have endorsed Lucas Kunce for Senate and Mike Kehoe for Governor.
"Missouri firefighters deserve to have leaders they can always count on to fight for them in Washington, regardless of party or politics," said Demetris "Al" Alfred, President, Missouri State Council of Fire Fighters. "That's why we're proud to endorse Lucas Kunce for U.S. Senate, a Marine veteran who has dedicated his life to real service. If you know Lucas, you know that Lucas shows up — and our unmatched grassroots organization is ready to show up for him on the pavement and at the doors in our communities."
Labor endorsing Kunce includes Missouri State Council of Fire Fighters, IBEW #124, UFCW #655, Roofers #20, Iron Workers #10, Insulators #1, Sprinkler Fitters #268, Bricklayers #1, Tilesetters #18, Insulators #63, Roofers #2, and the Greater Kansas City Building & Construction Trades Council, which represents Boilermakers #83, Bricklayers #15, Cement Masons/Plasterers #518, Elevator Constructors #12, Heat & Frost Insulators #27, Insulation Prod Workers #1, IBEW #124, Ironworkers #10, Operating Engineers #101, Laborers #264, Laborers #663, Laborers #1290, Painter's District Council #3, Pipe Fitters #533, Plumbers #8, Road Sprinkler Fitters #669, Roofers #20, Sheet Metal Workers #2, Sprinklerfitters #314, Teamsters #41, and Teamsters #541.
###
More About Marine Veteran Lucas Kunce
Lucas Kunce is a 13-year Marine veteran, national security expert, and antitrust advocate running against Josh Hawley to take Missouri's U.S. Senate seat back for working people. After three deployments to Iraq and Afghanistan, Lucas was stationed at the Pentagon, where he served on the Joint Staff to contain the threat of nuclear and chemical weapons around the globe, and later represented the United States in arms control negotiations with NATO and Russia. After active duty, he became the National Security Director for the American Economic Liberties Project, where he fought back against the corporate monopolists and corrupt politicians who strip our communities for parts while undermining our security. Learn more about Lucas Kunce.