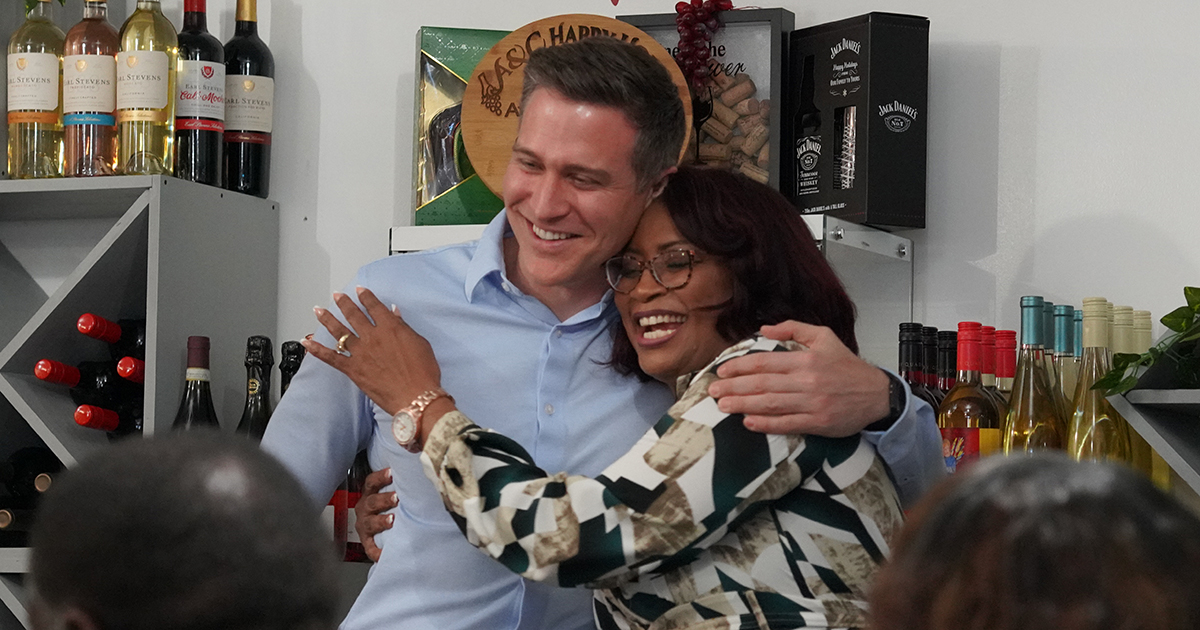 St. Louis County Council Chair Shalonda Webb, Missouri Machinists, and leaders from every corner of Missouri join statewide coalition behind Kunce
Back to News
Leaders—from St. Louis to Columbia to Kansas City, Northeast Missouri to Springfield, and Southeast Missouri to St. Joseph—are uniting behind Kunce, his record-breaking campaign, and the people-powered and worker-led coalition backing him for senate
Monday, June 26, 2023
Independence, MO — Today, St. Louis County Council Chairwoman Shalonda Webb, the Missouri State Council of Machinists, Hayti Heights Mayor Catrina Robinson, former Greene County Presiding Commissioner Dave Coonrod, and State Representative Ingrid Burnett joined the rapidly-growing statewide coalition supporting Lucas Kunce in Missouri's U.S. Senate race.
"I'm proud to endorse Lucas Kunce in this U.S. Senate race," said Chairwoman Webb. "I know Lucas, I trust him, and I have no doubt that as our next U.S. Senator, he'll fight for my community and for communities across Missouri. The statewide coalition Lucas has built is unlike any we've seen in years, and it's the reason we have a chance at taking this U.S. Senate seat back for everyday families. Let's send this Marine veteran, born-and-raised Missourian, and advocate for working people to Washington!"
"Lucas Kunce's U.S. Senate campaign gives us a real shot to take this seat back for the working people of Missouri — but that's not the only reason we're proud to endorse him," said President DeWitt Darity, Missouri State Council of Machinists. "As a Marine veteran, arms control negotiator, and a nationally impactful advocate for protecting and re-shoring the jobs and industries that keep our country safe, Lucas Kunce gives us a unique opportunity to have a U.S. Senator who knows just how critical our members are to Missouri and America."
"As a fellow Marine veteran with a deep commitment to protecting our land, our rivers, and our communities, Lucas Kunce has centered next-generation jobs, renewable energy, and conservation in his campaign," said Dave Coonrod, former Greene County Presiding Commissioner. "With his experience serving our country overseas and at the Pentagon, and as an advocate against corporate consolidation, Lucas is a rare and impressive leader advocating for a real future for every community in our state. That vision is how we'll beat Josh Hawley — and it's why I'm proud to back Lucas in this U.S. Senate race."
This slate of endorsers joins leaders and organizations already backing Lucas Kunce for U.S. Senate, including civil rights icon and former Congressman Bill Clay Sr, St. Louis Board of Aldermen President Megan Green, Jackson County Executive and Royals Hall of Famer Frank White Jr, St. Louis County Councilwoman and 30-year North County leader Rita Heard Days, former State Auditor Susan Montee, former Lt. Governor Joe Maxwell, the Missouri AFL-CIO, and the Missouri Fire Fighters.
"My community deserves to have a U.S. Senator who knows we exist. And Lucas shows up for us," said Mayor Robinson. "Lucas Kunce is running to be a senator for Hayti Heights and for every community in every corner of Missouri that's been left behind. He's on a mission to rebuild our state and invest in its people. I'm proud to support him and to be a part of the statewide coalition working to send him to the U.S. Senate."
"Lucas Kunce can beat Josh Hawley," said Rep. Ingrid Burnett, Kansas City. "Working families in Missouri deserve to have a shot at taking back this U.S. Senate seat, and Lucas has built a worker-led and people-powered coalition that can get it done. Lucas is the fighter for everyday people that we need in this race and that we desperately need in Washington — that's why I'm proud to endorse him."
"Working people in Missouri need a U.S. Senator with grit, who understands the challenges we face and is willing to have our backs in Washington. Lucas will be the Senator we need and deserve," said Jenna Redel, Boone County Treasurer. "He is a lifelong hard worker, who has used his sharp mind and strong character to serve his community and fight for his neighbors. I'm proud to offer him my support as he fights to give us all a voice in D.C."
A partial list of Kunce endorsers includes:
Bill Clay Sr, Former Congressman and St. Louis Civil Rights Icon
Megan Green, President of the St. Louis Board of Aldermen
Frank White Jr, Jackson County Executive and Royals Hall of Famer
Joe Maxwell, Missouri's 45th Lieutenant Governor
Susan Montee, Missouri's 35th State Auditor
Shalonda Webb, Chairwoman of the St. Louis County Council
Jenna Redel, Boone County Treasurer
Catrina Robinson, Mayor of Hayti Heights
Dave Coonrod, Former Greene County Presiding Commissioner
Rita Heard Days, St. Louis County Councilwoman, former State Senator and Representative for North County
Rasheen Aldridge Jr, St. Louis Alderman, former State Representative and Ferguson Commission Appointee
Shameem Clark Hubbard, St. Louis Alderwoman
Katheryn Shields, Kansas City Councilwoman and former Jackson County Executive
Manny Abarca, Jackson County Legislator
Wes Shoemyer, Former State Senator, Northeast Missouri
Barbara Eagleton, wife of the late U.S. Senator Tom Eagleton and influential St. Louis advocate
The Missouri AFL-CIO
The Missouri Fire Fighters (Missouri State Council of Fire Fighters, MSCFF)
MO State Council of Machinists
Pipe Fitters 533
The St. Louis Building and Construction Trades Council
The Greater Kansas City Building and Construction Trades Council
UFCW Local 655, Missouri's largest private-sector local union
IBEW Local 124
Iron Workers Local 10
Insulators Local 63
Roofers Local 2
Insulators Local 1
Roofers Local 20
Sprinkler Fitters Local 268
Bricklayers Local 1
Tilesetters Local 18
Iron Workers Local 396
Chantelle Nickson-Clark, State Representative, HD-67, North St. Louis County
Ingrid Burnett, State Representative, HD-19, Kansas City
Kimberly-Ann Collins, State Representative, HD-77, St. Louis
Adrian Plank, State Representative, HD-47, Boone County
Michael Johnson, State Representative, HD-23, Kansas City