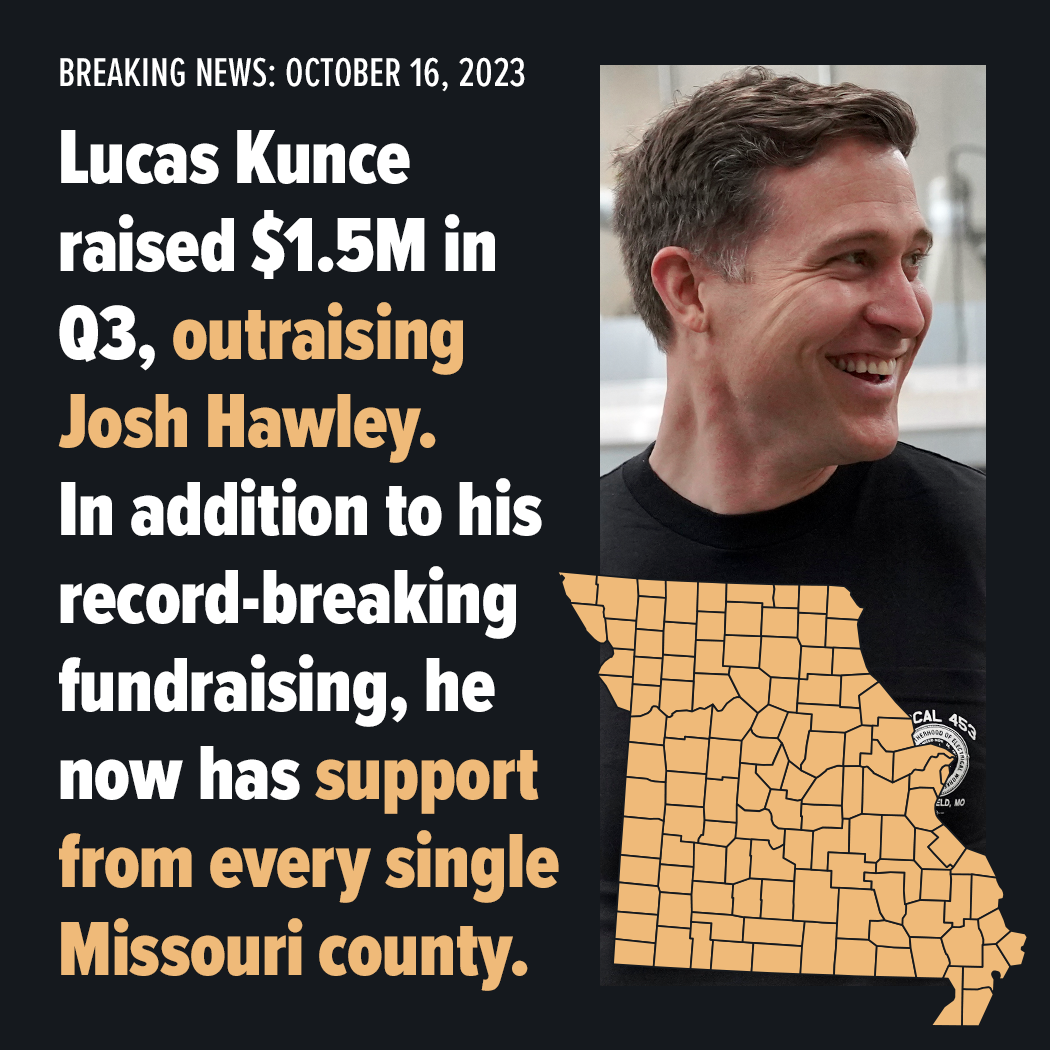 Lucas Kunce Outraises Josh Hawley (again) in Q3, boasts support from every single Missouri county
Back to News
Kunce's massive Q3 haul also keeps him ahead of Hawley for the cycle. Lucas has raised more than any Senate challenger in Missouri history for the first nine months of an election cycle.
Independence, MO — Lucas Kunce has outraised Josh Hawley in the third quarter and has raised more money for the cycle-to-date. Despite using committee transfers and getting bailed out by the NRSC, Josh Hawley continues to lag behind Lucas in fundraising for the cycle.
In the third quarter, Lucas Kunce raised a massive $1.5 million, continuing his record-breaking streak for Missouri fundraising. Since launching his campaign to take this Senate seat back for working people, Lucas has raised $3.9 million, the most of any Senate challenger taking on an incumbent in Missouri history at this point in an election cycle — and without a cent from corporate PACs, Big Oil executives or Big Pharma executives.
What's more is that Lucas has raised money from every single county in Missouri. The average donation in Q3 was just $31, and 99% of donations were under $200.
The St. Louis Post-Dispatch also reported on polling that had Hawley leading Kunce by only 44% to 43% after messaging. 
On top of the record-breaking fundraising, Lucas has earned the support of organized labor and elected leaders across the state. Just last week, Lucas earned the endorsement of the influential Service Employees International Union (SEIU). The 14,000+ healthcare providers, higher education faculty, janitors, nursing home workers, first responders, and social service workers united in the SEIU Missouri/Kansas State Council join a lengthy list of working people across Missouri, including the Missouri AFL-CIO, the Missouri Fire Fighters (Missouri State Council of Fire Fighters, MSCFF), MO State Council of Machinists, the St. Louis Building and Construction Trades Council, the Greater Kansas City Building and Construction Trades Council, UFCW Local 655 (Missouri's largest private-sector local union), Pipe Fitters 533, IBEW Local 124, Iron Workers Local 10, Insulators Local 63, Roofers Local 2, Insulators Local 1, Roofers Local 20, Sprinkler Fitters Local 268, Bricklayers Local 1, Tilesetters Local 18, and Iron Workers Local 396.
Elected leaders in Missouri backing Lucas include Bill Clay Sr, Former Congressman and St. Louis Civil Rights Icon; Shalonda Webb, Chairwoman of the St. Louis County Council; Frank White Jr, Jackson County Executive and Royals Hall of Famer; Megan Green, President of the St. Louis Board of Aldermen; Joe Maxwell, Missouri's 45th Lieutenant Governor; Susan Montee, Missouri's 35th State Auditor; Jenna Redel, Boone County Treasurer; Catrina Robinson, Mayor of Hayti Heights; Dave Coonrod, Former Greene County Presiding Commissioner; Rita Heard Days, St. Louis County Councilwoman, former State Senator and Representative for North County; Rasheen Aldridge Jr, St. Louis Alderman, former State Representative and Ferguson Commission Appointee; Katheryn Shields, Kansas City Councilwoman and former Jackson County Executive; Manny Abarca, Jackson County Legislator; Wes Shoemyer, Former State Senator, Northeast Missouri; Barbara Eagleton, wife of the late U.S. Senator Tom Eagleton and influential St. Louis advocate; Chantelle Nickson-Clark, State Representative, HD-67, North St. Louis County; Ingrid Burnett, State Representative, HD-19, Kansas City; Kimberly-Ann Collins, State Representative, HD-77, St. Louis; Adrian Plank, State Representative, HD-47, Boone County; Michael Johnson, State Representative, HD-23, Kansas City; and more.